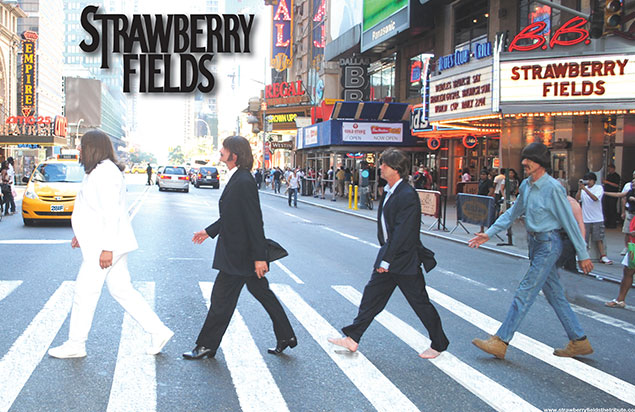 Strawberry Fields - SONGS4SIGHT 2021
Benefiting Sights for Hope formerly Center for Vision Loss
Wednesday, June 16 · view days & times
Price: $15-$60 per table or lawn square
Venue: Highmark Blue Shield Community Stage on the Air Products Town Square
Doors: 6 p.m. | Show: 7:30 p.m.
The Sights for Hope, formerly Center for Vision Loss, is the only organization dedicated to the visual well-being and related quality of life of everyone in Pennsylvania's Lehigh, Northampton, and Monroe counties. Its guiding principle is that vision loss should never be a barrier to achievement, independence, dignity, and hope.
The Sights for Hope delivers support, skills education, and rehabilitation services at little or no cost for people with vision loss; provides free vision screenings for children; and promotes eye health and safety. Impact on vision loss clients reflects in their abilities to live independently and improve their capabilities. Impact upon communities at large reflects in the children who receive free vision screenings and the people reached by agency's education programs and outreach presentations.
Services for Lehigh and Northampton counties are provided from the agency's Lehigh Valley Campus in Allentown, PA. Services for Monroe County are provided from its Monroe Campus near Stroudsburg, PA.
The agency traces its inception to 1928, when Lions Clubs in Lehigh and Northampton counties responded to a direct appeal from iconic activist Helen Keller to become "Knights of the Blind." The groups formed two agencies, and efforts expanded to Monroe County in 2002. The two agencies consolidated in 2010 to shape the organization as it is known today.

Strawberry Fields
THE ULTIMATE BEATLES TRIBUTE BAND IN FULL COSTUME
Featuring former members of the hit Broadway musical "Beatlemania"
"Strawberry Fields" will take you on a Magical Mystery Tour through the 1960s beginning with the year 1964 - complete with mop top hair, black suits and thin ties - and through the first four albums of great songs. Our next stop is 1967, featuring the psychedelic era of the "Sergeant Pepper's Lonely Hearts Club Band" album - with all of the costumes and jackets featured on the album cover, and singing all of your groovy favorites. Our last musical visit is to a place where their hair got longer and their music more politically involved, featuring music from the "White Album," "Abbey Road," and "Let It Be."
This rescheduled show of Strawberry Fields - SONGS4SIGHT 2021 will be located outdoors on the Highmark Blue Shield Community Stage on the Air Products Town Square, Levitt Lawn and Capital BlueCross Creativity Commons. Each ticket purchased is good for up to 4 guests per table, lawn square or bench.
Service Fees are applicable.
No Refunds or Exchanges
Health and Safety Guidelines
The health and safety of our patrons, vendors, volunteers, staff, and everyone attending our campus, buildings, and events is of the utmost importance to ArtsQuest and we have established a number of best practices and procedures based on guidelines from the CDC, City of Bethlehem and the Commonwealth of Pennsylvania. Please click here to read all of the safety guidelines and regulations in place for attendance at this event.
Schedule
Venue Information
Highmark Blue Shield Community Stage on the Air Products Town Square
ArtsQuest Center
101 Founders Way
Bethlehem, PA 18015
610-297-7100
map & directions