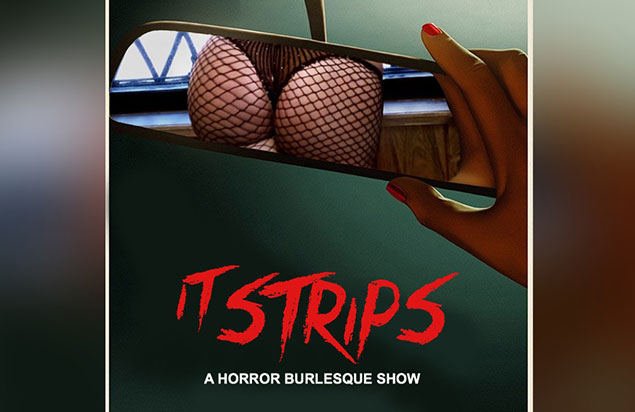 It Strips
Saturday, October 26 · view days & times
Price: $12 regular | $10 student & senior* | $9.50 ArtsQuest Member
Venue: Frank Banko Alehouse Cinemas
Not Rated (recommended for 17 and older) | 90-120min
Your favorite horror movies + burlesque = a spooky, sexy time!
Renowned burlesque producer HoneyTree EvilEye curates an evening of gruesome, hilarious and naughty acts by several of the East Coast's best burlesque artists at It Strips, a horror film-inspired cabaret variety.
Kitana Kedavra
Kitana has been haunting the late-night stages of Philadelphia and the surrounding areas since 2016. Her unique performance style blends her passions, including nerdlesque, hula hooping, horror, raunchy floor work, and heavy metal. Her face won an award in 2018 (Ace of Face, Golden Tassel Jawns), and she is the producer of Cake & Sodomy, a burlesque tribute to Marilyn Manson. You can find her every last Tuesday of the month at the Raven Lounge raising hell as the resident gogo babe of Slut Church, Philly's only monthly kink-infused metal burlesque & gogo party.
America Online at AOL.com
America Online @ aol .com is a Philadelphia based performer who brings her love of being picked on in high school for being a big nerd and fine art together. She is the co-producer of Philly's longest running weekly burlesque and cabaret show Frankies Follies now at Franky Bradleys. In her short time performing she has participated in the 2018 Philadelphia Burlesque festival and 2018 Alternatease festival, 2019 Nerdlesque festival she has won "Best Costumes" at the Philadelphia Golden Tassel Jawns
HoneyTree EvilEye
One of Philadelphia's most prolific burlesque performers and producers for nearly a decade, HoneyTree EvilEye is renowned for her mixture of politics, sultry performance and silly nonsense. The producer of Honeygasm, SlutChurch, Agitated, Get You A Girl Who Can Do Both, Take it Off Broadway and a number of other popular shows, she is also the current head instructor of the Philadelphia Burlesque Battle Royale and the founder and co-organizer of the Golden Tassel Jawns, the annual fundraiser awards show for the Philly burlesque community. She was a part of the burlesque moment for Taylor Mac's 24-hour long History of Music show in Philadelphia and had performed at the AlternaTease and Philadelphia burlesque festivals.
-Tagline: She's not a doll; she's an action figure.
Flirt Vonnegut
Deceptively wholesome, Flirt Vonnegut is known as the Wet Blanket of Burlesque and is Philadelphia's most beloved emcee. He is the resident host for long-running monthlies like Honeygasm and Dark Side Burlesque and is the Golden Tassel Jawns winner not only for his hosting but also for Best Boylesque Butt. he is also co-producer and host for Get You a Babe Who Can Do Both and Philadelphia Burlesque Battle Royale.
*Student & senior discounts apply at the box office only
Schedule
Venue Information
Frank Banko Alehouse Cinemas
ArtsQuest Center
101 Founders Way
Bethlehem, PA 18015
610-297-7100
map & directions