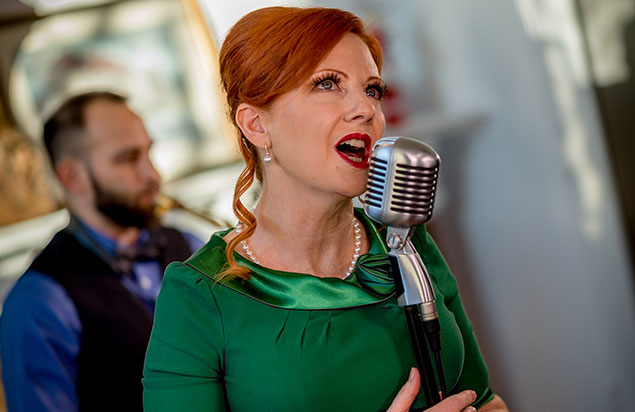 Ginger and The Schnappes
In partnership with Iron City Swing!
Friday, September 27 · view days & times
Venue: Highmark Community Stage on the Capital BlueCross Creativity Commons

FREE
Come out and enjoy a night of swing dancing in partnership with Iron City Swing! Dance lessons begin at 8pm and music begins at 9pm!
It's The Great American Song Book come to life. We perform the classic songs made famous by the likes of Frank Sinatra and Ella Fitzgerald. Then we take contemporary songs from groups like The Beatles and add a swing, blues or torch song twist. We are a new band made up of musicians local to the Lehigh Valley, most of whom have extensive professional experience
Ginger Brew is a polished and engaging chanteuse who draws the audience into the great stories told by the clever lyrics in these classic songs. Ginger's emotional connection with the songs coupled with her classic style and vintage look makes each song a vignette for the listener to enter.
But Ginger doesn't create this mood alone. It's The Schnappes who provide the musical setting in which all this happens. Expertly played sax solos that cry when they should cry and flute solos that whisper when the lyrics do are played by Dan Twaddell; keyboard solos that can stride or swing or rock a 12 bar blues are played by Pat Kerssen; bass lines that glue the whole thing together then break out into deep rich solos are created by Brian Bortz; musical percussion that provides a solid rhythm for the tune while enhancing the lyrics is constructed by Vern Mobley and Joe Mixon, our masterful musical director, provides our song structures and some pretty amazing guitar licks for every genre we do.
Schedule
Venue Information
Highmark Community Stage on the Capital BlueCross Creativity Commons
ArtsQuest Center
101 Founders Way
Bethlehem, PA 18015
610-297-7100
map & directions