Hoover-Mason Trestle
Hoover Mason Trestle Open To Community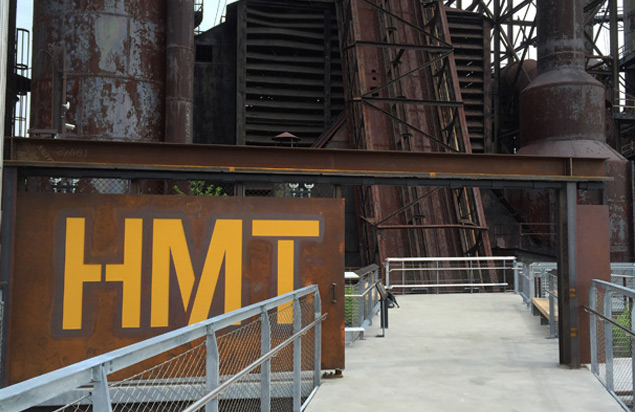 The Hoover Mason Trestle (HMT) was once used as a narrow gauge railroad to carry the coke, limestone and iron ore needed to make the iron from the ore yards to the blast furnaces. Now a public walkway designed to be part museum, part community recreation resource and part attraction, the trestle stands 46 feet tall and 2,000 feet long. Opened on June 25, the Hoover Mason Trestle is located along the blast furnaces with one entrance at the Visitor Center and another at either end of the Gas Blowing Engine House providing access from the Wind Creek parking lot or PBS 39 end of the campus. Visit the Hoover Mason Trestle to get up close and personal with the blast furnaces!
The HMT is a public facility owned by the Redevelopment Authority of the City of Bethlehem. For everyone's safety there are a few rules for guests. Below is everything you need to know about HMT:
Location: SteelStacks, 711 First Street, Bethlehem, PA 18015
Hours: 10 a.m.-8 p.m. (Sun., Mon., Tues., Wed.)
10 a.m.-9 p.m. (Thurs., Fri., Sat.)
The Hoover Mason Trestle will be closing daily during Musikfest (Aug. 4-13) at 4 p.m.
Access: Stairs and elevator located between the Bethlehem Visitor Center and the Levitt Pavilion. Stairs only on the west end of the Gas Engine Blowing House near PBS 39 and on the east end of the Gas Engine Blowing House at the Wind Creek parking lot. With use of the elevator the HMT is handicapped accessible for its full length.
Parking: Visitors can park for free in the lot outside the Bethlehem Visitors Center located at 711 East 1st Street, Bethlehem, PA 18015 or outside Wind Creek Bethlehem located at 77 Wind Creek Boulevard, Bethlehem, PA 18015
Closure: The trestle may be closed for inclement weather or for a special event. For information please call 610-332-1300
HMT rules prohibit:
Walking on rail tracks, gravel, or plants
Picking flowers or plants
Throwing objects
Sitting on railings or climbing on any part of the HMT
Bicycles, skateboards, skates and scooters
Performances or amplified sound, except as authorized
Solicitation
Commercial activity, except as authorized
Littering
Glass bottles
Obstructing entrances or paths
Drinking alcohol
Feeding birds or squirrels
Dogs
Stop in at the Bethlehem Visitor Center, the stone building adjacent to the stairs near the SteelStacks parking lots for information, souvenirs and tours.