Ruby Dear: ArtsQuest Discovery Series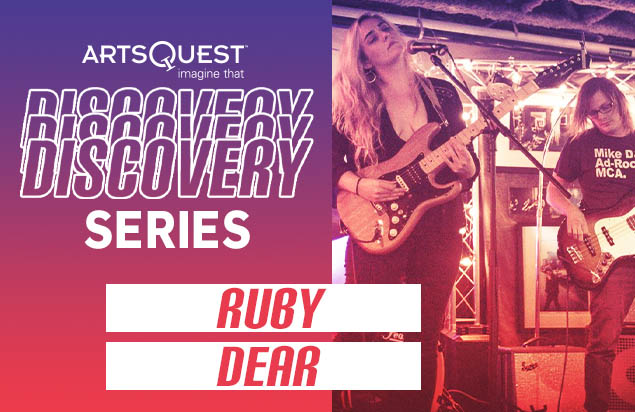 By Jenny Founds of Ruby Dear & ArtsQuest Staff | Published 2/12/21
Congrats, you've found your way to the ArtsQuest Discovery Series! Our organization prides itself on introducing your ears to new bands and artists. So while the music touring industry is mostly on hold because of the pandemic, we're giving some of our musician friends the chance to share what music they're hyped about. A mix of up-and-comers, artists that inspire their craft, deep cuts, the classics…oh, and their own tunes!
In this edition, get to know the musical tastes of Ruby Dear! The power trio celebrates the release of its second album, This Will, with a record release show in the Musikfest Cafe presented by Yuengling on Feb. 19. All three members – Jenny, Jon and Jesse – are also in the band Start Making Sense, which is (at the time of publishing) in the middle of a residency at SteelStacks, paying tribute to Tom Petty (Feb. 5), Jane's Addiction (Feb. 12) and Talking Heads (Mar. 5).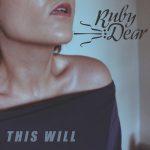 Discover Ruby Dear: Website | Facebook | Instagram | Twitter | YouTube | Bandcamp | Spotify | Grab Merch
Rough Francis
We Met Rough Francis when Start Making Sense (SMS) was paired with them on a festival bill in Burlington, Vt in 2013. We were immediately impressed by their musicianship and awesome heavy punk sound and attitude and became fast friends, playing multiple shows together over the years, and always catching up over some food or a drink when we make it to one another's home towns. Rough Francis recently dropped their latest album "Urgent Care" which is now available on streaming platforms, and they even have a song featured in Tony Hawk's re-release of Pro Skater. They're definitely a band that needs way more exposure! Check out their TapeSwap session on YouTube filmed right here in Bethlehem at Shards Studio with Matt Mulchaney!
Thelma and the Sleaze
Jon was definitely the first of Ruby Dear to get hip to Thelma and the Sleaze, but swiftly turned the rest of us onto their powerhouse sound and created diehard fans. Jenny was directing a Women Who Rock show at School of Rock in Allentown a few years back and decided to include this song. Amongst a playlist of Heart, Blondie, and Joan Jett this song being the newest and most obscure didn't deter the students from rocking out and obsessing over this incredible tune. Fast forward to the fall of 2019 when Ruby Dear got to open for the Sleaze in Pittsburgh for a one night only show, Jenny finally got to meet the legendary front woman LG and her all female crew of equally badass bandmates which totally made her year. You can call it southern rock, blues rock, hard rock at times – but at its core Thelma and the Sleaze are a down and dirty rock n' roll band that take no prisoners live in person or listening on vinyl. Their newest record "Scared as Hell" just dropped late 2020 and is available on all streaming platforms, and LG has an amazing podcast called "Queen of S Mountain" that is definitely worth checking out!
SeepeopleS
A few years ago SeepeopleS reached out to open up for Start Making Sense in Raleigh, North Carolina when they were booking a tour, had an open date, and saw we were playing. That move on band leader Will Bradford's part sparked a friendship that has spawned over a dozen shows together up and down the east coast from North Carolina to Maine, working with SMS as well as Ruby Dear! Will produced the latest Ruby Dear record "This Will", which we recorded up in Boston, Massachusetts February 2020 during a blizzard at Chillhouse Studios with Will Holland as head engineer. SeepeopleS just celebrated 20 years as a band and released this new single "Blink" with a music video featuring footage from friends and fans during quarantine. Their entire catalog is worth a listen, which you can find on all streaming platforms, and has an incredible range of thoughtful, exciting, catchy yet experimental indie rock songs that you'll find stuck in your head days after listening.
EchoTest
EchoTest is the brainchild of Julie Slick, incredible bassist for Adrian Belew, sub bassist for Start Making Sense, and good friend of Ruby Dear. In the midst of traveling world wide to tour with Belew, Julie started composing her own material and joined forces with italian bassist Marco Machera to create their bass-duo fronted band EchoTest. Jenny has had the awesome opportunity to tour and record for EchoTest through the years, and particularly loves this song "Ladies Legs" as it's the perfect blend of progressive rock bones & indie rock sensibility, experimental musicality & electronic ambiance, as well as an alternative rock core with symphonic overtones. The music video is also a work of art in its own respect, with it's Lynchian tones that are borderline fever dream fuel. Jenny had the pleasure of singing on this song, which is available via bandcamp!
Secret American
Secret American is one of those bands that gets you smiling and on your feet moving as soon as they hit their first chord live. Jon has been friends with frontman Derek Kryzwicki for a long time, going back to the days of Derek's first band Cheers Elephant. They're a bi-coastal band with Derek living in California and bassist/producer/engineer Todd Mecaughey hailing from Philadelphia PA. Ruby Dear had the pleasure of performing a co-bill with Secret American during Musikfest 2019 at the legendary Funhouse in Bethlehem on the final night of the festival. This song is also the namesake of their newest album "Heavy Feels" which dropped November 2020, and is truly a masterpiece that will get you smiling and feeling all the feels. As a 7 piece band comprised of musicians from all over the country, they tour sparingly but somehow make it out to Bethlehem when they can. Secret American is definitely a band to keep your eyes on, so make sure you're watching their socials and try to get out to see them next time they're in town! Definitely a live show you do not want to miss. Their new album is streaming online, so check it out!
Sicman Of Virginia
Sicman Of Virginia is a power trio from southeastern Virginia that Ruby Dear has been friends with for quite a while. For over a decade SoV has been creating and releasing music blending straight ahead rock and roll with beautiful songwriting and clever lyrics at the core. Pre pandemic, Ruby Dear booked a weekend of shows at the Funhouse and John and Peters in New Hope PA with both Sicman of Virginia and Crescent Moon, the power house rock duo featuring Ween and JRAD's bassist Dave Dreiwitz and Sound of Urchin drummer Tomato (Chris Harfenist). Looking back to that weekend of shows, it was definitely the most rock and roll line up Ruby Dear ever had the pleasure of being in, but also the last weekend that felt "normal" before the craziness of 2020 set in. Sicman has an epic catalog of music spanning the past decade, which you can find on all streaming platforms. They have an uncanny ability to have a sound that is uniquely theirs, yet each song has its own feel switching between genres and blending elements from a vast knowledge of music history. Definitely a band worth listening to over and over again! They released three singles late 2020 that are out now, but this tune "Cutter" of their 2011 album "Sweatpants and Other Unnecessary Nonsense" truly rocks and the video is from the weekend of shows they played with Ruby Dear!
Listen to Ruby Dear's Music!
While "Supersonicphiladelic" is a bit of a departure from Ruby Dear's power trio rock sound, it's a tune Jenny wrote reminiscing of her years touring with School of Rock as a student and playing in legendary Asbury Park, NJ at the Asbury Lanes – but deeper than that it's a song expressing the feeling of nostalgia for youth that we all feel, and how returning to places from our past inspire the bittersweet mixture of memory and hope for the future. This is our very first music video, shot by Michael Kravetsky of NJ during the fall of 2020 on a perfectly cloudy day at the shore. We'll be playing this song and the rest of the new album as well as our first album tunes at the upcoming Musikfest Cafe album release show 02/19/21!
Ruby Dear
Friday, February 19
Musikfest Cafe pres. by Yuengling
Click here to listen to Ruby Dear on SPOTIFY!
Click here to listen to Ruby Dear on YOUTUBE!
Click here to listen to Ruby Dear on BANDCAMP!
Follow Ruby Dear on Social Media!
Click here to follow Ruby Dear on FACEBOOK!
Click here to follow Ruby Dear on INSTAGRAM!
Click here to follow Ruby Dear on TWITTER!
Explore other ArtsQuest Discovery Series Entries!
Kendal Conrad: ArtsQuest Discovery Series
Seth Witcher: ArtsQuest Discovery Series