New Podcast & Steel Events, 10th Year of Levitt Pavilion Concert Series and More Highlight ArtsQuest's 2020 Festivals & Events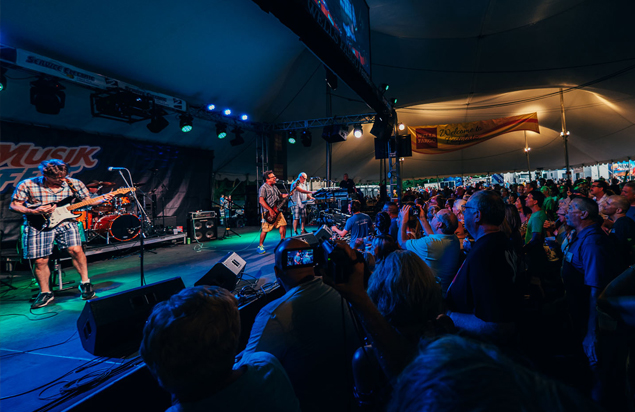 Photo by Ted Colegrove
BETHLEHEM, PA—A rare July start for Musikfest, a new podcast festival and the 10th year of the ¡Sabor! Latin Festival, Oktoberfest and Levitt Pavilion Summer Concert Series at SteelStacks highlight the list of ArtsQuest's major events and festivals planned for 2020.
On March 28, the site that was once home to molten steel will be sizzling with recordings of the region's best podcasts as SteelStacks hosts the inaugural Lehigh Valley Podcast Festival at the ArtsQuest Center. From side splitting comedy podcasts, to more serious takes on topics ranging from science and politics to life in the Lehigh Valley, the festival will showcase the region's most entertaining and engaging webcasts, with complete podcast episodes taped in front of a live audience throughout the day.
Musikfest may be synonymous with August, but this year the festival will get a jumpstart on its festivities when it gets underway in July for the first time since 2009. From July 31-Aug. 9, attendees will enjoy more than 500 performances on 18 stages including Wind Creek Steel Stage headlining concerts by Darius Rucker, Shinedown and more. Details on performers and programming will be announced over the coming months.
From May 22-Sept. 12, the Levitt Pavilion SteelStacks presented by Coordinated Health will celebrate 10 years of free concerts for the community by presenting more than 50 free shows at the base of SteelStacks' iconic blast furnaces. Over the years, the series has presented free concerts by Blind Boys of Alabama, Fabulous Thunderbirds, Lake Street Dive, Low Cut Connie, Marcia Ball and more than 450 other artists; the complete 2020 lineup will be announced April 20 at the Levitt SteelStacks Season Reveal event in the Musikfest Café Presented by Yuengling.
On Nov. 14-15 and 18, several community partners including National Museum of Industrial History, Lehigh Valley Public Media, Wind Creek Bethlehem, the Steelworkers' Archives, Lehigh Valley Economic Development Corporation, Bethlehem Area Public Library and more, will hold a series of events remembering the last time that steel was made at the Bethlehem Steel plant. Known as Last Cast 25, the programs will include a special presentation at the ArtsQuest Center on Nov. 18 – 25 years to the day that steel was last made on the site – during which Steelworkers who worked at the plant will come together to share their stories and memories of the final days.
ArtsQuest 2020 festivals and events include:
Jan. 24-25 | SteelStacks Improv Comedy Festival
More than 60 improv troupes from throughout the nation perform at SteelStacks.
Jan. 25 | Souper Bowl presented by Burkholder's Heating and Air Conditioning
ArtsQuest's annual culinary fundraiser features awesome soups by more than 20 local restaurants and caterers.
Feb. 9 | Red Carpet Party
Celebrate the best films of the year at the Frank Banko Alehouse Cinemas.
Feb. 29 | Greater Lehigh Valley Filmmaker Festival
Featuring the work of talented local and regional filmmakers.
March 28 | Lehigh Valley Podcast Festival – New!
Showcasing the region's most entertaining and engaging webcasts, with complete podcast episodes taped in front of a live audience.
April 19-Sept. 13 | Cars & Coffee Lehigh Valley
A monthly gathering of auto aficionados where thousands of car enthusiasts show off their prized vehicles. Dates are April 19, May 17, June 28, July 19, Aug. 23 and Sept.13.
May 1-2 | SouthSide Arts & Music Festival presented by Capital BlueCross
This dynamic festival features live music, art workshops and demos, artisan pop-ups and more.
May 2 | Derby Watch Party
Featuring live Dixieland music, people decked out in their finest derby attire and all the excitement that comes with one of the most prestigious horse races in the world.
May 22-25 | Levitt Opening Weekend presented by Coordinated Health
Levitt Pavilion SteelStacks kicks off a summer of more than 50 free outdoor concerts.
May 23-25 | Memorial Day Celebration presented by Embassy Bank
This patriotic celebration honors those who have served or are currently serving.
May 30-31 | Step Outdoors Lehigh Valley presented by St. Luke's University Health Network
From hiking and archery to birding and biking, this family-focused event features activities and presentations on conservation, wildlife, outdoor recreation and more.
June 20-21 | SteelStacks Grand Prix presented by Lehigh Valley Grand Prix
Everyone from the region's business leaders to area families enjoy go-kart races on the site of Bethlehem's old steel mill.
June 26-28 | ¡Sabor! Latin Festival
A celebration of the region's Latino culture, ¡Sabor! is three days of music, food and family fun.
July 4 | Independence Day Celebration presented by Embassy Bank
Fireworks, family activities and an annual free music performance highlight the 4th of July at SteelStacks.
July 11 | SangriaFest SteelStacks
Enjoy a taste of summer as this event returns for its fifth year. At SangriaFest, guests sample a variety of refreshing sangrias while enjoying live music and more.
July 16-18 | Blast Furnace Blues presented by Highmark Blue Shield – New Dates for 2020!
Showcasing the best in local, regional and national blues acts. Takes place at SteelStacks and Levitt Pavilion.
July 31-Aug. 9 | Musikfest
Musikfest, the nation's largest free admission music festival, returns for its 37th year with more than 500 performances on 18 stages. Headlining acts include Darius Rucker, Shinedown and more!
Aug. 21-22 | S.T.E.A.M. Fest presented by WeDiscoverGeeks
Steam-punk meets S.T.E.A.M. education at this family-friendly festival.
Aug. 27-29 | SouthSide Swing – New Dates for 2020!
Dance the night away on the Levitt Lawn as SteelStacks celebrates hot jazz with live music and free swing lessons.
Aug. 29 | SangriaFest Upper Macungie – New Date for 2020!
Returning for its exciting second year with more live music and refreshing sangrias galore.
Sept. 13 | PierogiFest presented by The Clubhouse Grille
Featuring a delicious variety of takes of this famous, doughy treat.
Sept. 25 | Glass Blast
This party celebrating the ArtsQuest Glass Studio features demos and artwork by local artists, food from area restaurants, drinks in a beautiful keepsake glass and chance to make a work of your own.
Oct. 2-4 & 9-11 | Oktoberfest presented by Lehigh Valley International Airport (ABE)
With Dachshund races, stein hoisting games and bratwurst eating contests, Oktoberfest is a German celebration like no other.
November | InVision
This month-long celebration of all things photography and digital art features lectures by renowned photographers, workshops, demonstrations and more.
Nov. 14, 15 and 18 | Last Cast 25
Remembering the rich history of Bethlehem Steel and celebrating the region's bright future through innovation.
Nov. 20-Dec. 20 | Christkindlmarkt Bethlehem presented by Univest Financial
Featuring aisles and aisles of artisan-crafted gifts and holiday decor, Christkindlmarkt has been named one of the top holiday markets in the U.S. by Travel + Leisure and USA Today's 10Best. Dates are Nov. 20-22 and 27-29 and Dec. 3-6, 10-13 and 17-20.
Dec. 30-31 | PEEPSFEST® presented by Just Born Quality Confections
This sweet, family-friendly New Year's celebration is highlighted by fireworks and the iconic PEEPS® Chick Drop.